The market may have embraced SUVs, but the best way to haul people and their stuff at the same time is still with an MPV. These are the best ones currently on sale
Fashion and function are not always the happiest bedfellows – you only need to look at most MPVs to see that. Despite being some of the most versatile and practical machines on the road (MPV means 'Multi-Purpose Vehicle' after all), people carriers have had an unhappy lot recently. With SUVs continuing to surge ahead in the sales charts, worthy people carriers are falling by the wayside as buyers clamour for street cred and a little 'lifestyle' sparkle instead.
Yet despite becoming marginalized, the MPV hasn't slipped into obscurity just yet. Moreover, for many large families with busy schedules, there's still no substitute for these rational and thoughtfully designed machines that put people and practicality at the heart of what they do. Thanks to an extremely efficient use of space they usually offer more space for people and things than vehicles with a similar footprint, plus tend to be packed with surprise-and-delight features that take the stress out of transporting families.
Traditionally MPVs are seen as seven-seaters, but the sector also includes five-seat models – perfect for those who never need to carry extra passengers but do want the space and thoughtful design. Increasingly, the class is seeing the arrival of van-based models, their boxy bodies and no-nonsense engineering making them the ultimate utilitarian family holdalls.
So, here's our 10 favourite people movers.
The cost of living crisis isn't getting any easier for families, which is why the existence of the Dacia Jogger is great news for buyers on a budget. A genuine seven-seat family car you can buy for less than £15,000, the Romanian people carrier truly is a car for our times. Yet there's so much more to this versatile machine than its bargain basement price.
Sure the Jogger isn't the biggest, cleverest or most versatile car in its class, but once you get down to brass tacks you'll discover that it's arguably all the car your growing brood really needs. It offers five decent-sized seats and a couple of more kiddy-sized ones in the boot, but the latter can easily be lifted out entirely when you've got big loads to carry. Others are more glamorous, faster and offer greater technological geegaws, yet drive the Jogger and you'll realise that you don't need any of these extras. In fact, you're arguably better off without them.
The Jogger shares its model platform with the Dacia Sandero supermini (which in turn is based on the latest Renault Clio) as well as its 1.0-litre, 109bhp petrol engine. Outright performance is pretty modest, but also more than adequate, the thrummy three-cylinder delivering reasonable torque for mid-range hauling, while a tall top gear serves-up economical long-distance driving. Its bubbly energy takes a hit when you're seven-up and fully loaded, but you'll always be able to keep up with the flow. 
There's also now the option of the 1.6-litre petrol-electric hybrid (essentially the Renault E-TECH system), which delivers 138bhp and some eye-catching fuel economy figures. Performance is a little stronger (but not much), while the automatic-only gearbox option will appeal to many. However, in the real world it is barely any faster or more frugal than the 1.0-litre, so unless you must have a hybrid then we'd stick to the standard car.
Ride and handling are every bit as capable as you'd expect, with the longish travel suspension doing a decent of soaking away pockmarked surfaces. The steering is accurate and despite comical levels of body roll when pushing on the Jogger clings on tenaciously. Yes the Dacia is built in Romania, but there's a loping, easy-going vibe about the Jogger that's reminiscent of parent brand Renault's comfier offerings.
The cabin is pretty sparsely fitted out in the case of lower-trim models, in which there's simply a built-in smartphone holder for in-car entertainment and navigation – but upper-level ones offer fitted touchscreen system and factory navigation as standard. And there are even clever roof bars which can convert into a roof rack of their own, for the storage of bikes and roof boxes.
There hasn't been a new MPV with the potential to rejuvenate interest in this flagging class for a decade or more; but the Jogger's value alone could do that.

More than two decades and almost two millions sales ago, Citroën pioneered the van-based MPV with the Berlingo, and this latest (but only third) generation model returns to the original's charm and odd-ball likeability.
What's more, the French family wagon's appeal has recently been enhanced by Citroen's reversal of its decision to drop petrol and diesel versions, leaving just the all-electric models. Both the 1.2-litre petrol and 1.5-diesel have been reinstated, albeit only in the five-seat bodystyle. If you need the seven-seats the longer XL version provides then you're restricted to the 134bhp electric powertrain with its 50kWh battery that provides a realistic range of around 110 miles.
Whatever the motive force, there are stout reasons to buy a Berlingo instead of a more conventional MPV. For starters, the interior is truly cavernous, with 186 litres of storage space in the various cubbies dotted about, and even with seven seats there's still generous space for luggage. The sliding rear side doors are a real boon too, allowing easy access in tight parking spots and making it a doddle to load smaller children into child seats.
Best of all, the Berlingo rides with a languid calmness and steers intuitively, making it a relaxing companion regardless of the road. Factor in generous equipment levels for UK-spec cars, attractive pricing and all that space and you can't help feeling you're beating the system. And of course, if you don't want a Citroen badge (or there's no dealer nearby), Peugeot and Vauxhall offer rebadged identical twin versions. A true everyday gem.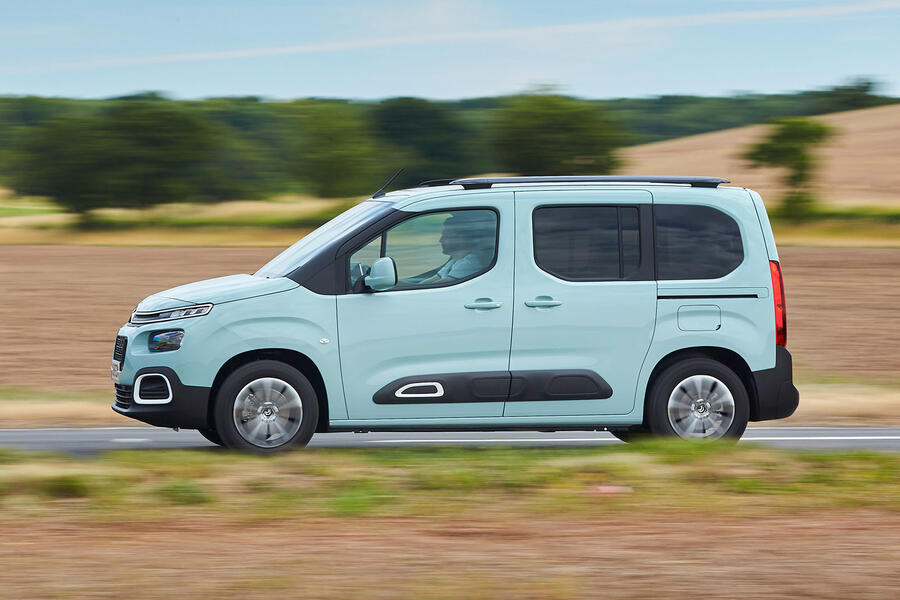 The Touran feels like a car created from the very core of the MPV textbook, having been born to deliver great occupant space from a fairly compact footprint.
It can't quite match the BMW 2 Series Active Tourer for premium-brand allure or driver appeal, while it also lacks a bit of charm in its design. But like all great Volkswagens, it's functional in all respects, offering a versatile and pretty roomy seven-seat cabin without risking dwarfing your three-bedroom semi.
VW only offers the car with its 1.5-litre TSI Evo engine, which develops 148bhp but hauls the car along easily enough and with creditable refinement and decent economy. Handling is neat, contained and comfortable.
The Touran scores no less than eight out of 10 in every department, making it a strong all-rounder that does exactly what it says on the tin with fantastic consistency.
While the recent arrival of the rugged, and VW co-developed, Ranger has been stealing all the headlines, it was actually the Ford Tourneo Connect that was the first fruit of the fairly freshly minted collaboration between the Blue Oval and its German rival (well, if we ignore the mid-Nineties Sharan and Galaxy, also MPVs). 
A replacement for the previous Focus-based Connect, the newcomer picks-up where its highly underrated predecessor left off. That car delivered Berlingo style space and utility with genuine dynamic polish, and the latest version is no different. Based on VW's MQB platform, the Tourneo has been tuned by Ford's people to give it a surprisingly poised and plush feel that allows it to scythe through corners as effortlessly as it soaks up bumps. Engine choice is limited to either 1.5-litre petrol or 2.0-litre diesel, but both serve-up adequate get-up and go.
As before, there's a choice of two body styles – a standard five-seater and longer (Grand Tourneo) seven-seat option. Both deliver acres of interior space and loads of handy storage, while the sliding rear side doors boost an already versatile package. Go for the seven-seat version and with both rear benches removed there's a cavernous 3100-litres of carrying capacity. There's loads of kit too, including climate control and Apple CarPlay, while higher-ranking models add heated seats and keyless go. 
If there's a niggle it's that there's a little too much VW in the Ford's cabin design. Yes that means smart style and strong quality, but the unlit touch sensitive heating controls are a real bugbear, and will make you grateful for the standard lane keep assist as you fumble to adjust the temperature on an unfamiliar road at night.
Still, it's not enough to blunt the practical Ford's appeal. And if you'd rather have a VW badge on the nose, then there's also the Caddy version.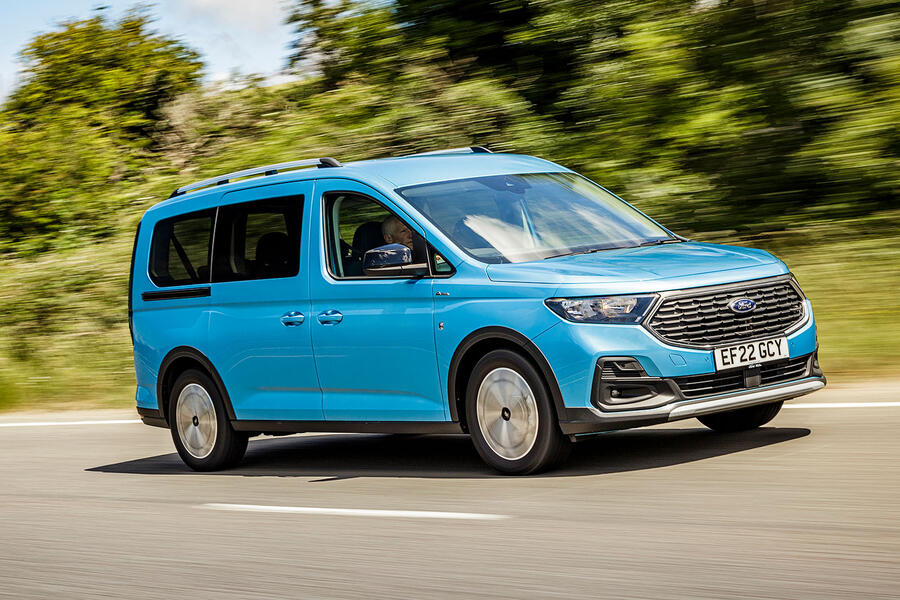 Another van-based MPV, but in this case it's a full-sized job that's perfect for the largest of families. Based on VW's new T7, the Multivan is arguably the most stylish and car-like version to appear in 'T' history, which can trace its roots back nearly 80 years.
Underpinned by the brand's MQB architecture rather than a dedicated commercial vehicle platform, the T7 drives with all the assurance, comfort and refinement of a very large Golf. The steering is accurate, body control is good and the ride pliant. If you weren't sitting so high up and the rear of the car wasn't so far away, you'd never know you were in a van. This is backed up by a punchy engine line-up that runs to a 1.5-litre petrol and 2.0-litre diesel, plus the 2.0TSI from the Golf GTI. There's also a plug-in hybrid, complete with a claimed EV range of 31 miles.
Inside, the Multivan is simply vast with the sort of flexibility that other MPVs can only dream of. There are seven individual seats (you can have fewer if you wish) and those in the back slide, swivel and fold. Remove the chairs (at 15kg apiece they ain't light) and you can run a removal service at the weekend. There's also loads of handy storage space to secret all the usual odds-and-sods that are accumulated during busy family duties. Oh, and as ever the addition of sliding side doors offers unrivalled access and egress.
If there's an issue (and we're sorry to go on about it), then it's the frustrating heating and ventilation controls, which like those of everything from the Golf to ID3 are unlit and touch sensitive. For a firm with such a focus on R&D this set-up continues to be an ergonomic nightmare.
Other than that, this is a spacious, comfortable and brilliantly sorted people carrier. But with prices starting at just over £40,000 and rising to within an uncomfortable biscuit of £70,000, so it should be.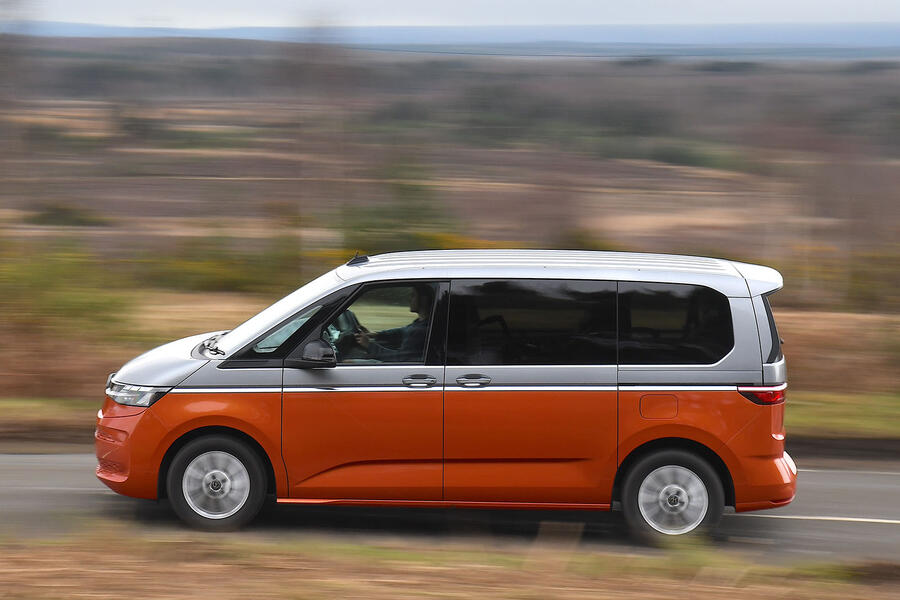 Ford is one of very few manufacturers who are persisting with traditional MPVs, although that does mean keeping older models in production for a long time. The Ford S-Max is now fairly old, having been in production since 2015, but a new hybrid powertrain and infotainment updates have kept it current.
It doesn't appeal in quite the same way as the previous one in the driving sense, the old car's unique selling point of quirky looks and surprisingly good drive having been dimmed somewhat by Ford's slightly one-dimensional 2.5-litre petrol-electric engine. However, it's still a respectable, competitive and generally pleasing-to-drive family car. As it's now hybrid-only, it's very economical, too – and with 187bhp to call on, it isn't under-nourished either.
The reasons to choose the S-Max over some of the van-based alternatives are getting harder to find, while the dynamic sparkle and eye-catching design of the original are largely lost. But even in these financially straitened times Ford dealers are likely to want to do a deal to shift any S-Max stock, and with a nice discount this is a thoroughly pleasant and practical machine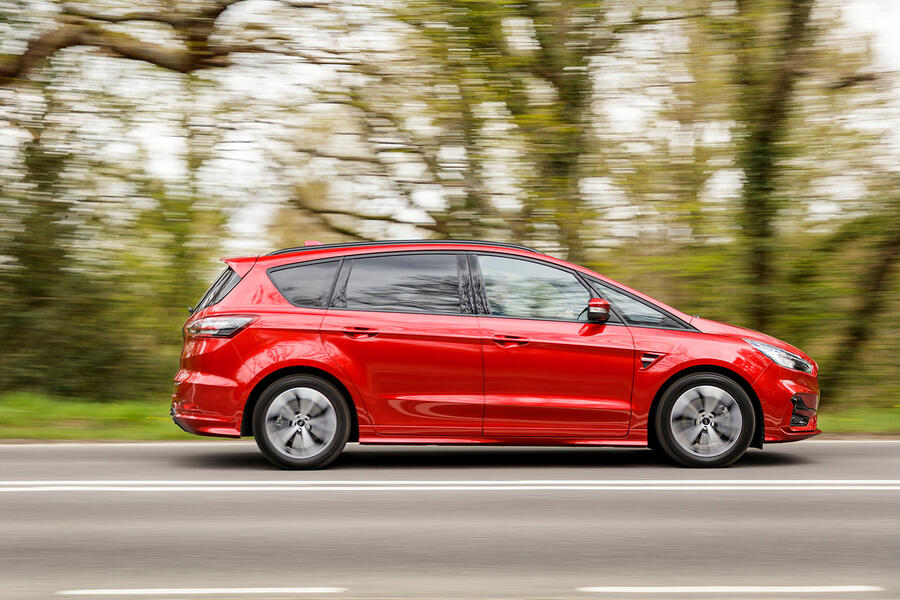 It's somewhat surprising that in such a declining sector, premium player BMW has stuck by the MPV. In fact, the latest 2 Series Active Tourer isn't a facelift of the previous model but an all-new machine built on the current 1-Series platform. And the result is a classy and composed hatchback that offers a decent dose of extra practicality
The old seven-seat Gran Tourer has been dropped, so it's only this five-seat model that remains. Sitting within a footprint not much larger than a 1 Series, it serves up plenty of space for most growing families, with generous room in the rear where a sliding bench allows you to choose between extra space for luggage or legs. There's also plenty of handy storage, with deep door pockets and handy lidded cubby between the front seats.
As you'd expect the fit and finish is excellent, plus the 2 Series gets the brand's latest slick infotainment and advanced driver aids. It feels like a BMW on the move too, with just enough agility and engagement to satisfy the inner keen driver that family life shouldn't mean sacrificing too much fun behind the wheel. 
There's a pair of smooth and responsive 48V mild-hybrid assisted petrol and a single 218d diesel, plus the option of four-wheel drive 225xe and 230xe plug-in hybrids. The latter offers a hot-hatch humbling 322bhp while both claim an impressive 56 miles of EV range for an 8% company car tax banding.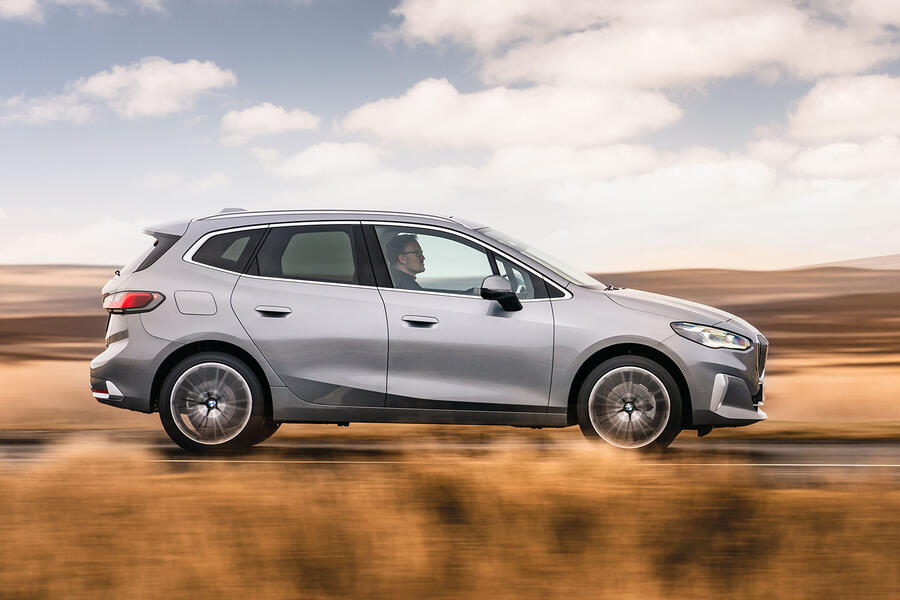 The Ford S-Max has an even bigger and more practical sister model, the Ford Galaxy. This was Ford's original MPV, remember. It's very similar inside to the S-Max but for a higher roofline and a slightly roomier cabin, and comes with the same hybrid powertrain. 
The difference is that it has seven genuinely usable seats which make it the ultimate transport for large, grown-up families. It's less engaging to drive than the S-Max, but it's even more comfortable on the motorway and still handles surprisingly well, as we're accustomed to from Ford.
Time is running out for the Galaxy, and in many respects the increased sophistication of van-baed alternatives means it's not hard to see why manufacturers have stopped developing this sort of machines. Yet there's still much to admire here, and if you want a truly car-like driving experience but with extra space, then the Galaxy (and S-Max) are fine alternatives.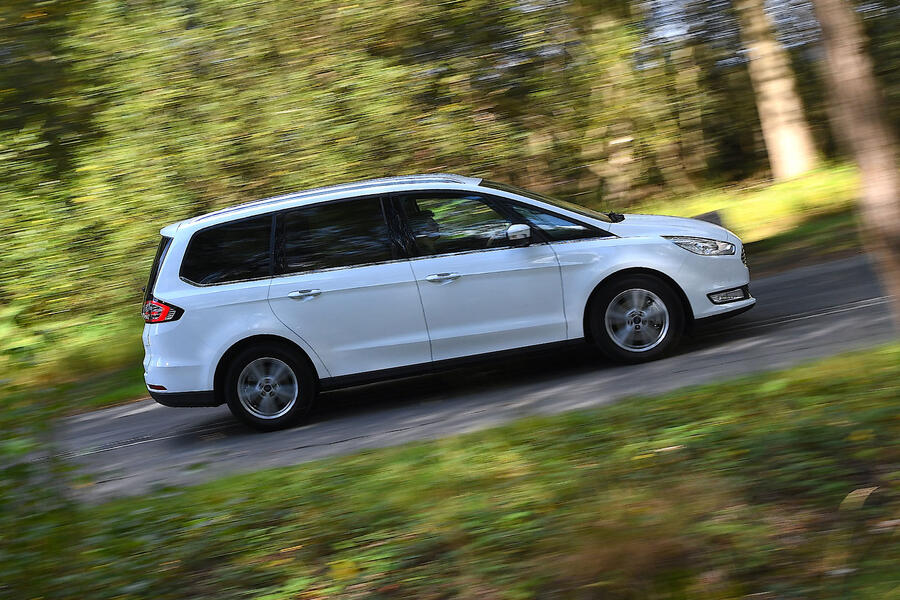 If maximising the amount of space and passenger carrying capacity available to you is your number-one priority, you need to be looking at the passenger versions of medium-sized vans. The best van to drive is the Ford Transit Custom and the Tourneo Custom is the same, but made more habitable for carrying passengers.
One of our photographers ran a Ford Tourneo Custom PHEV for six months and found that the versatility fit his lifestyle perfectly and while it was never going to rival a Focus for driver appeal, it never felt like a chore to drive, either. We'd recommend a normal diesel, though. The pure-electric range of the PHEV is a paltry 30 miles, which is just not enough for a vehicle you want to take on long trips.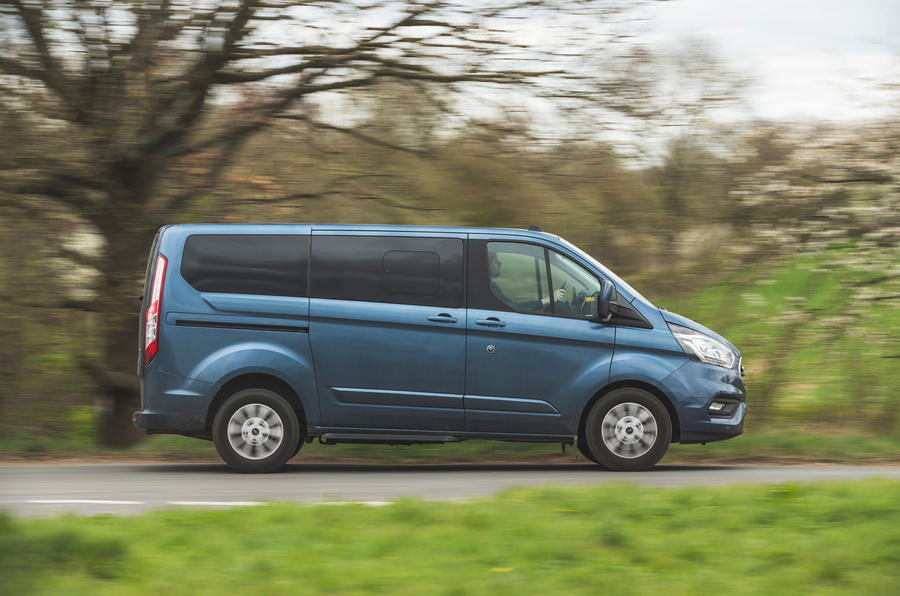 Mercedes has got the all-electric seven-seater market pretty well served between the EQB we've already mentioned, and this: the larger and more expensive EQV. Effectively an electric V-Class, this is a big, tall, van-like vehicle with sliding side doors and captain's chairs in the second row that can spin to face either forwards or backwards.
It's powered by a 204bhp electric motor and has a usable range of just over 200 miles. And with air suspension and plenty of mass rolling along, it's surprisingly quiet and comfortable, and handles well for something so large and heavy.
You'd be lucky to pick up an airport transfer in an EQV – and, allowing for the tax advantages, your chauffeur would be pretty happy to run one, assuming he could charge one up easily.