The primary health centre (PHC) in Dholmara village in Kokrajhar covers a population of 15,000-20,000, a majority of whom are Muslim. The area has had a history of conflict; it was one of the worst affected during the violence of 2012. And yet, the PHC is known for being among the best in the district on the scale of management and service delivery.
The PHC is run by Dr Atawor Rehman and his staff of about 10 people. Dr Rehman does not have an MBBS degree, he is only a medical officer of the Department of Ayurveda, Yoga & Naturopathy, Unani, Siddha and Homoeopathy (AYUSH).
Dr Atawor Rehman (Source: Express photo by Divya A)
He runs the PHC like a 24×7 hospital, seeing as many as 130 patients a day, even assisting in deliveries. "In a district of approximately 9 lakh people, there are just two qualified gynaecologists," Rehman said. "Even the private hospitals are shutting down due to this staggering shortage of doctors. Patients keep coming day and night, and I have no option but to continue with the check-ups and treatment."
Rehman, who comes from a village in Upper Assam, studied for his AYUSH degree at the Gauhati Medical College, and was posted to Kokrajhar as part of a one-year compulsory rural posting for medical practitioners. "Once I started working here, I was shocked to realise the gravity of the situation. I decided to stay back after my mandated rural posting time was over, and work for these people," Rehman said.
Rehman's seven years of work have borne fruit: the PHC is a freshly painted yellow six-room building, with a boundary wall and staff quarters. He lives in the quarters with his wife and four-year-old son, as a contractual employee of the National Rural Health Mission, drawing a salary of Rs 32,000.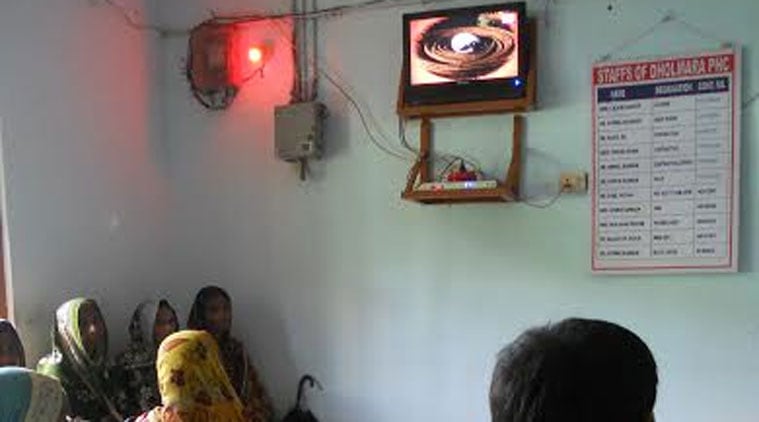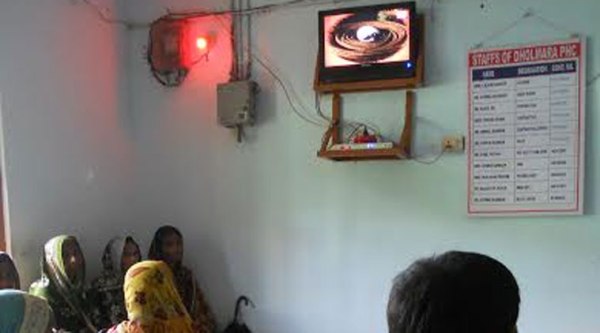 The waiting room has an LCD TV, a water purifier, chairs and well-marked dustbins. (Source: Express photo by Divya A)
The waiting room has an LCD TV, a water purifier, chairs and well-marked dustbins. "We have taken the help of villagers in building this centre — some voluntary, some paid labour, but it has all been their hard work," Rehman said. His staff of 10 includes a cleaner, a pharmacist, attendants and assistants.
"Before Doctor Sahib came, this entire area was a jungle. There was neither a proper building, nor any staff. He built it all from scratch," pharmacist Noor Jehan, who lives next door to Rehman in identical staff quarters, said. A third identical staff quarters is occupied by the cleaner.
It isn't just in the living quarters that Rehman has demolished hierarchy. On the staff notice board, the cleaner's name is on top, followed by that of attendants, assistants, pharmacists and accountants, while his own figures at the bottom.
"The level of motivation has to be kept high. No staff member has left since we started the PHC seven years ago," Noor Jehan said. Besides Dholmara, the PHC also attracts people from neighbouring villages. OPD patients are charged Rs 5 each.
Dinesh Boro, Joint Secretary, Bodoland Territorial Council, said, "Due to its super-effective functioning, the Dholmara centre has become a model PHC for the region. While NHRM is responsible for supplies, we get a lot of support from UNICEF for training and awareness programmes. But unavailability of doctors remains a critical gap. We are waiting for the day when trained doctors are ready to work here."
Assam has 64% vacancy in healthcare. That too when the mandated doctor-to-patient ratio in Northeast India is 1:50,000, lower than 1:35,000 for the rest of India. The district of Kokrajhar in Lower Assam, in the area governed by the Bodoland Territorial Council, has the highest infant and maternal mortality rates in the state.
Kokrajhar, which has about 3 per cent population of the state, has a maternal mortality ratio (MMR) of 325 per 1,00,000 live births, an infant mortality rate of 74 per 1,000, and an under-five mortality rate of 100 per 1,000, as per the Annual Health Survey 2011-12.