Arkansas men's basketball coach Eric Musselman said Saturday night he was getting coaching tips from legendary golfer John Daly as the team knocked off Kansas in the Round of 32.
Musselman said Daly was pitching drills for the players to do to work on their free throws. The Razorbacks were 22-of-29 against Illinois from the charity stripe and were 21-for-26 from the line in the 72-71 win over the Jayhawks.
CLICK HERE FOR MORE SPORTS COVERAGE ON FOXNEWS.COM
"He tried calling me, got a couple texts already," Musselman said. "Before we hit the plane I'll try to call John. You know, he's been texting me even drills. Like he wanted our guys to get a putter out and hit a ball into a cup. We haven't tried it yet, luckily we've been making foul shots. But I know the state of Arkansas is on fire right now and I know John Daly's pretty pumped up too."
After the win, the 58-year-old coach jumped onto the press table, ripped off his red polo shirt and waved it over his head.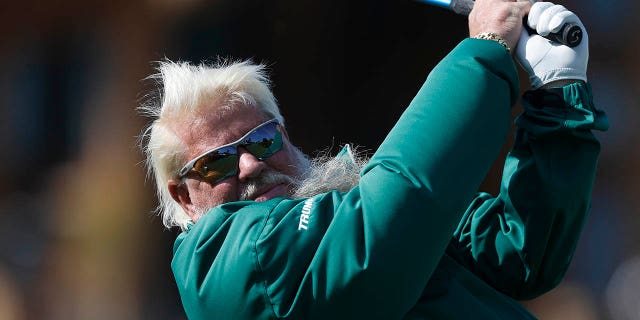 NCAA DIVISION III SCHOOL WINS NATIONAL CHAMPIONSHIP ON WILD BUZZER BEATER
The crowd in Des Moines, Iowa, went crazy.
"That's such an unbelievable win for our program," Musselman said. "I keep telling people that we're getting better. Not many teams can get better this time of year. I've never been prouder of a team like tonight."
Kansas is the second No. 1 seed to have been eliminated already in this tournament.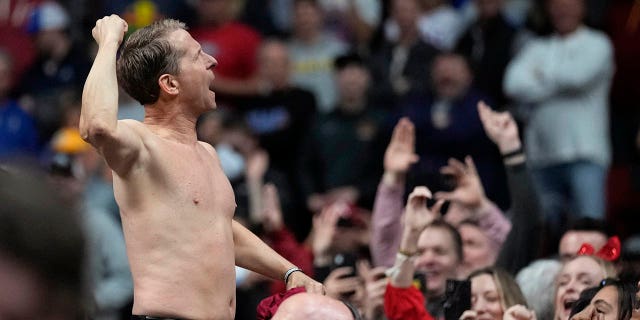 CLICK HERE TO GET THE FOX NEWS APP
No. 16 Fairleigh Dickinson defeated No. 1 Purdue on Friday night.