Gigi Hadid has weighed in on the "nepo baby" debate that's taken the celebrity world by storm.
The supermodel, 27, whose parents are "Real Housewives of Beverly Hills" star Yolanda Hadid and property tycoon Mohamed Hadid, admitted to being a nepotism baby in an interview with The Sunday Times.
"I've always acknowledged that I come from privilege," Hadid told the Times. "My parents told me, 'Just because you have parents who were successful, it doesn't mean that you shouldn't walk into the job being as nice and as hard-working as you can be.'"
"I don't think I'm the prettiest person in the world," she said, adding: "Some Botox could probably help, but I'm not so obsessed with caring that I want to do anything about it."
The model's younger sister, Bella Hadid, is also a world-famous model, as is their younger brother Anwar Hadid. Gigi Hadid was born in Los Angeles and began her career as a baby model for Guess. She's appeared in campaigns for designer brands including Fendi, Missoni, Versace and Valentino. She gave birth to her first child in 2020, a daughter with British singer Zayn Malik.
Nepo baby, short for nepotism baby, is a term used to describe a famous person whose success likely benefited from having famous parents. The debate kicked off after New York magazine published a December cover story on Hollywood nepotism.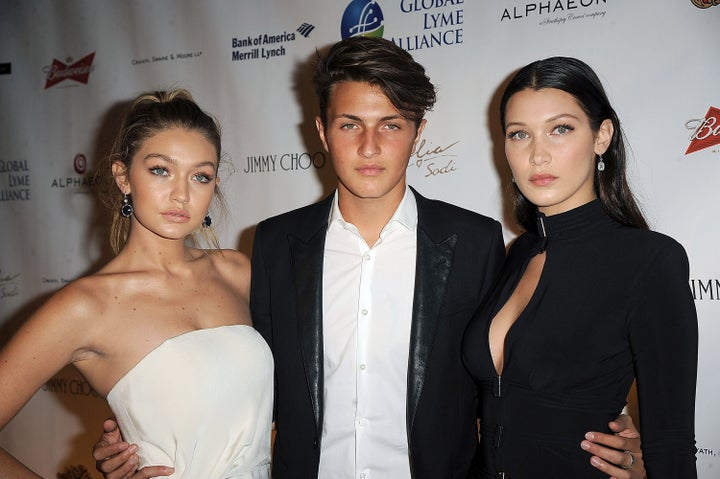 Bella Hadid had her own moment in the nepotism spotlight in 2021, after she went viral for a clueless comment in a Vogue video.
"I never, growing up, had anything designer. My mom wouldn't let me. I think I got my first pair of Louboutins when I graduated high school," she said, prompting a sarcastic online roasting over the "relatable" story. She soon admitted it was a "bad story to tell."