The Modern Classic Car Rally was presented by Vredestein Tyres in association with Gulf Oil and Autoglym.
Mumbaikars were treated to a rare sight today as over 55 modern classic cars took to the city's streets as part of the second edition of the Modern Classic Rally. Organised by Autocar India and presented by Vredestein Tyres in association with Gulf Oil and Autoglym, the rally featured over 55 cars produced between 1970 and the early 2000s, along with some rare supercars that are over a decade old. It was flagged off from the Grand Hyatt hotel in Kalina by Mumbai BJP president and MLA Ashish Shelar.
Second Edition of Modern Classic Rally had over 55 cars in attendance
Bentley Brooklands, Citroen DS and Ferrari Mondial were on display
Cars were produced between 1970 and early 2000s
What are modern classics
Modern classics are cars usually between 10 and 50 years old, and the category includes a variety of body styles — from coupes and SUVs to limited edition supercars. The enthusiasm for these cars is a reflection of the growing popularity of modern classics among automotive aficionados both, in India, and globally. Importantly, the rally went beyond its concept and proved to be the culmination of a movement celebrating iconic cars that represent old-school engineering and modern performance standards.
Star cars at the show
The participating cars were part of a convoy from BKC to the Worli Seaface and back. Automotive enthusiasts lined the route, eagerly clicking photos of the veritable procession of iconic cars. These included American muscle cars such as the Mustang Mach 1 and Pontiac Firebird, British cars like the Aston Martin DBS, Jaguar E-Type and Bentley Brooklands, and memorable Japanese machines such as the Nissan R33 GT-R and Mazda MX5 Miata.
Other cars that attracted attention included Mercedes-Benz coupes and roadsters, the Citroen DS, the very rare Ferrari Mondial and the super exotic Rolls-Royce Phantom Drophead Coupe. SUV fans were treated to time-tested off-roaders like the first-gen Range Rover, Nissan Patrol and Toyota Land Cruiser 80 series. Prominent collectors from across the country such as Viveck Goenka, Samit Hede, Gautam Singhania and Pratapsinh Gaekwad participated in the rally, which also featured cars belonging to well-known car collector Yohan Poonawalla.
Two pristine examples of the Jaguar E-Type – a coupe and a convertible.
"Over 70 percent of the cars are being showcased here for the first time. This really shows the scale of the movement and the momentum we are getting," said curator of Modern Classic Rally, Perseus Bandrawalla. "The main thing about these cars is their nostalgia value and their beautiful blend between mechanical engineering and electronic precision. Modern Classics are becoming a lifestyle and it's also one of the most popular genres of cars globally today. We are glad to note that their popularity has been growing in India with each passing year."
Shanay Shah, in attendance at the event with his Mercedes-Benz SL 500 said, "It's great to be invited by the Autocar team to the Modern Classic Rally. I think this rally is just going to get bigger and bigger. It's amazing to see people come out and really support the movement. I am looking forward to many more such events in the future."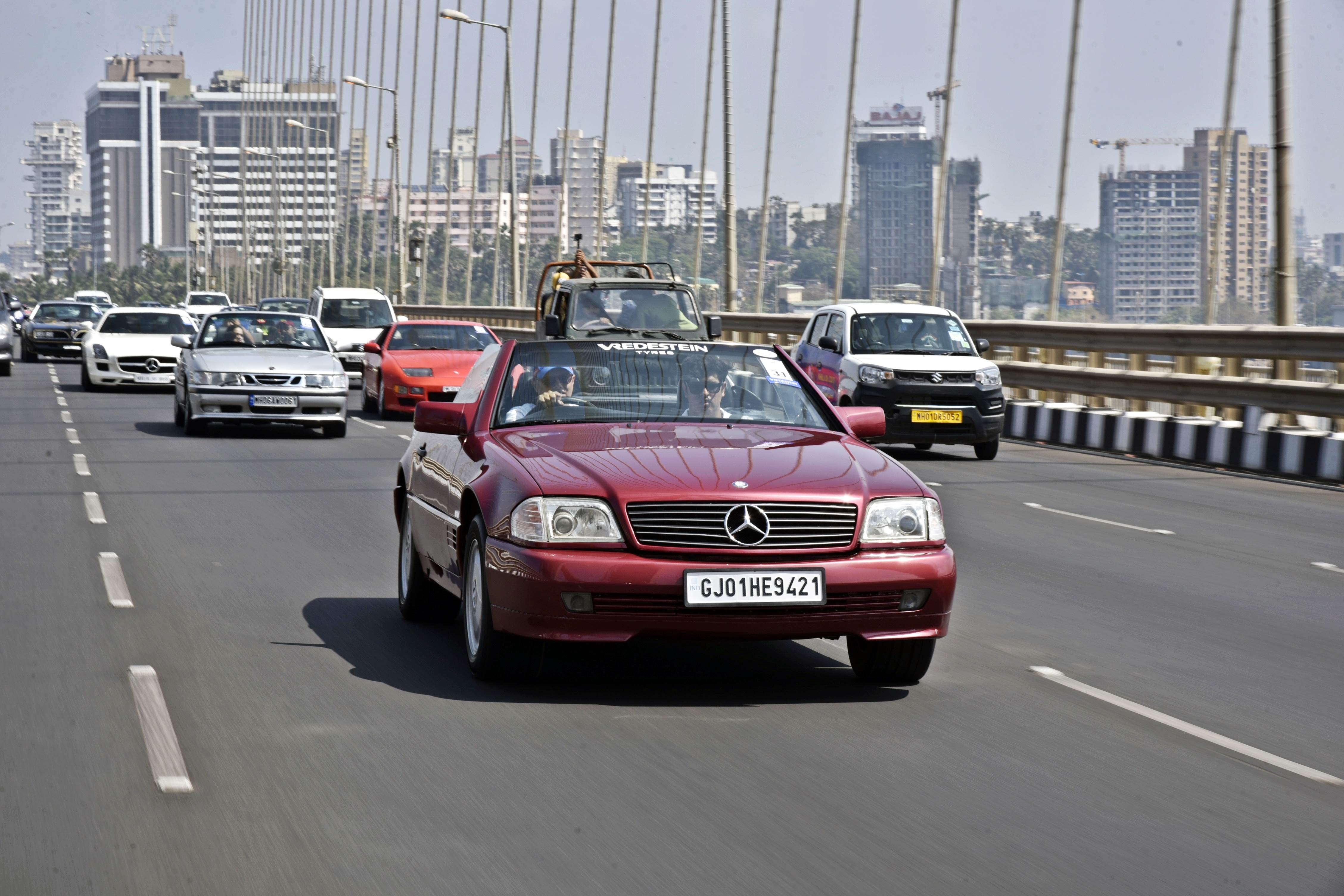 Shanay Shah's Mercedes SL 500.
Hemen Choksey, owner of the very rare Ferrari Mondial QV – the only one in India – said, "I got the car in 2004, and it has been almost 20 years since I have had it. It's been a ride to maintain it because part sourcing is difficult. The car is very rare – there are only 150 right-hand drive Mondial QVs in the world. But it's a dream to drive. You do need an open road for it, and when it's on the move, it's simply amazing."
In addition to the spectacular assortment of cars, performance tyre brand Vredestein also displayed its range of tyres in India. "Premium style and superior performance have always been the hallmarks of Vredestein, which is why they are the choice of passionate and discerning automotive enthusiasts the world over. We are proud to be part of this growing movement of Modern Classics that is driven by passion," said MS Satishkumar, customer service head, Vredestein Tyres, for south and west region.
The second edition of the Modern Classic Rally was a huge success, with participants and spectators equally enthralled.
Did you catch us on the road, and what were your favourite cars from this year's show? Let us know in the comments below.
Also See: